In July this year, the Indian govt had banned 59 Chinese apps citing the sovereignty and integrity of Indian cyberspace. Following that, we had recommended a number of Chinese apps alternatives for enhanced privacy. And now the Indian government has banned PUBG Mobile, the popular battle royale game along with other 117 Chinese apps. It surely came as a huge shock since India was one of the largest markets for Tencent. Anyway, now that the government has officially disallowed the game, we have come up with some PUBG alternatives. So without any delay, let's go ahead and find the best games like PUBG Mobile on Android and iOS.
Best Battle Royale Games Like PUBG Mobile (Updated September 2020)
We have carefully curated the 10 best games like PUBG Mobile for both Android and iOS. We have ranked the below list based on survival gameplay for which PUBG was so popular and compatibility across a range of devices — from budget to high-tier devices. To navigate seamlessly, you can click on the link below and learn about games similar to PUBG Mobile.
Call of Duty: Mobile
Fortnite
Garena Free Fire: 3volution
Rules of Survival
Hopeless Land: Fight for Survival
Creative Destruction
Battlelands Royale
ScarFall : The Royale Combat
Knives Out
Pixel's Unkown Battle Grounds
PUBG Mobile Alternatives on Android and iOS
1. Call of Duty: Mobile
Last year, Call of Duty: Mobile was launched for both Android and iOS to give a stiff competition to PUBG Mobile. Fast forward now and the game has amassed a healthy community in India, just like PUBG Mobile. And now that PUBG has been banned, it's the perfect time to try this amazing battle royale game.
Not to mention, CoD: Mobile is published by Activision, a US-based studio so the chances are next to nothing for the game to be banned. The best part about Call of Duty: Mobile is that it offers everything you used to love playing on PUBG. You have a 100-player battle royale mode, a 5v5 deathmatch, multiplayer modes like CoD Black Ops and much more.
Along with that, you can endlessly customize your character, weapons, unlock new characters, earn rewards, and much more. Best of all, the game takes up around 2GB of storage and runs pretty well on budget Android devices so it can sufficiently replace PUBG Mobile in the Indian market. Simply put, at this point, Call of Duty: Mobile is the best PUBG alternative that you can hop on.
Pros
100-player battle royale 
Features other multiplayer games too
Compatible with both budget and high-tier devices
Takes up 2GB of storage
Cons
Community is relatively smaller than PUBG
Download: Android, iOS (Free, offers in-app purchases)
2. Fortnite
With Fortnite ousted from Apple's App Store and PUBG banned in India, it is a great opportunity for Epic to tap the Indian market. But there is one thing that makes me put it in second place and that is its humongous download size and compatibility requirements.
Not to forget, Fortnite has also been removed from the Play Store, but you do have the option to sideload the game through its own store. The installation process is rather seamless and you can learn how to install Fortnite on Android without Play Store from our guide. Coming to my main complaint, Fortnite takes around 8GB of storage which is a big ask for budget Android devices, especially in India.
On top of that, Fortnite needs an Android device running Android 8 or higher, at least 4GB of RAM, GPU that features Adreno 530/Mali G71 or higher, and lastly, a mid to high-tier processor. In other terms, if your Android device comes with a Snapdragon 8-series processor then you are good to go. Along with that, now some 6-series processors are also able to handle Fortnite pretty well.
Moving to the gameplay, Fortnite is a game that is very similar to PUBG Mobile. You have four distinct modes: 100-player battle royale, Party Royale, Creative, and Save the World. Party Royal is just like PUBG's Cheer Park; Creative is where you can create your own island and Save the World is a co-op tower defense survival game.
I would say in terms of gameplay, Fortnite is in fact better than PUBG Mobile. And now that a new Fornite season has just started, you can't afford to miss this opportunity.
Pros
High-quality graphics
100-player battle royale
Multiple gaming modes
Gameplay is excellent
Cons
Needs high storage
Not compatible with all devices
Download: Android, Samsung Galaxy Store (Free, offers in-app purchases)
3. Garena Free Fire: 3volution
If you're not yet comfortable jumping into a high-capacity fight, Free Fire – Battlegrounds could be the game you'd like to try out first. The controls are all on the screen and simple to navigate, but the highlight for you is that only have to go against 49 other users in a 10-minute window to survive until the end. That's a quick game to hone all your skills before an intense battle.
The basics of the battle royale mode all remain the same. You'll drop on a remote island and will have to find good weapons, as well as medkits, and stay inside the safe zone to win the battle.
You could also form 4-man squads and talk amongst yourselves to devise a strategy with in-game voice chat. Their graphics are smooth, so you wouldn't necessarily face any lag during the gameplay.
Pros
49-player battle royale
Loot and shoot
Supports in-game voice chat
Pretty good graphics
Cons
Weapons are limited
Anti-cheating system does not seem to work
Download: Android, iOS (Free, in-app purchases start at $0.99)
4. Rules of Survival
If you've tried out the PUBG mobile game, then you will find that Rules of Survival hits close to home and is quite similar to this battle royale phenomenon. In this game, you drop on a massive 8 x 8 km island with 120 other players and have to be the last man standing as the zone pushes you to a center.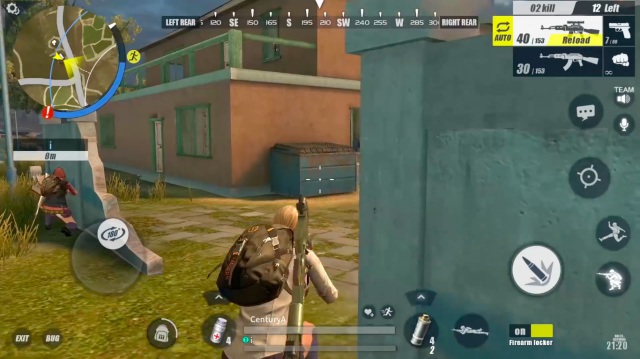 With over 100 million downloads, this is possibly the most popular alternative to PUBG on mobile and I've enjoyed playing this game over the past couple of months. The controls are quite simple and the experience is pretty smooth worldwide, thanks to the presence of three different servers across Asia, America, and Europe.
Pros
120-player deathmatch
Huge community
Easy to play
Has servers worldwide
Cons
There are noticeable bugs
Download: Android, iOS (Free, in-app purchases start at $0.99)
5. Hopeless Land: Fight for Survival
Hopeless Land: Fight for Survival is another game like PUBG that has got rave reviews from the mobile gaming community. It's a potential PUBG alternative that has survival as its main theme. The game has a survival mode where you can play against 121 players and the last man standing wins the match.
Its environment has an Asian aesthetic and you would find yourself at home. You can drive a helicopter, land in new places and face the fatal battleground to win the deathmatch. And the game is not just about guns and weapons, but you need sharp strategic skills like PUBG to win the round.
Here too, you are followed by a hazard zone and you need to be inside the safe zone to continue the game. And the best part is that it's compatible with a range of Android devices. All in all, with over 50M downloads on Play Store alone, Hopeless Land is a fit replacement for PUBG Mobile, both on Android and iOS.
Pros
121-players battle royale
Asian aesthetic environment
Fly in helicopters
Strategic game like PUBG
Cons
Anti-cheating system does not seem to work
Download: Android, iOS (Free, offers in-app purchases)
6. Creative Destruction
Creative Destruction is a popular sandbox survival game on the PC, and now it has been launched for smartphones too. You can play a 100-player deathmatch just like PUBG where the last one standing wins the raging war. Not to mention, the game allows you to customize your weapons, character, skins, and unlock rewards with in-game currency.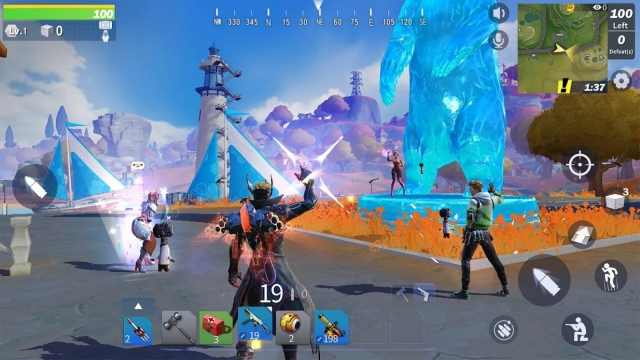 And similar to PUBG, you can fight in a team or play solo. Sure, the graphics is not top-notch, but Creative Destruction is consistently improving, and with PUBG out of the way, you will certainly find new developments on the smartphone version.
Not to mention, the game has been picked as an Editor's Choice on the Play Store and has clocked more than 10M downloads. To sum up, Creative Destruction is a solid offline game like PUBG for Android and iOS and you can give it a try.
Pros
100-player deathmatch
Decent graphics
Editor's Choice on Play Store
Endless customization
Cons
Download: Android, iOS (Free, offers in-app purchases)
7. Battlelands Royale
As the name suggests, Battlelands Royale is a battle royale game similar to PUBG Mobile, but with a crazy fun twist. It's not your casual blood-filled shooter game but brings cute characters and a cartoonish gameplay environment. But you do have the main theme: a 32-player battle royale game where the carnage does not stop.
Also, what I like about Battlelands Royale is that here you don't have to wait in lobbies to start the game. Just tap on the play button and you are on a parachute– now go ahead and loot, shoot and survive. The battle royale lasts not more than 3 to 5 minutes.
You can play the game either in solo or duo mode and you have to dominate your arena from all sides. The map is also kind of huge and you will have to play the game to learn about the various positions. All in all, Battlelands Royale is a fun-filled game like PUBG Mobile and you can play it for quick enjoyment.
Pros
Fun and harmless battle royale
Quick deathmatch
Supports solo or duo mode
Features detailed map
Cons
Download: Android, iOS (Free, offers in-app purchases)
8. ScarFall : The Royale Combat
ScarFall : The Royale Combat has a unique distinction on this list. It's one of the few battle royale games that has been developed by an Indian studio. According to YourStory, "ScarFall emerged as one of the top Made-in-India apps in the gaming category in the recent AatmaNirbhar Bharat App Innovation Challenge launched by Prime Minister Narendra Modi."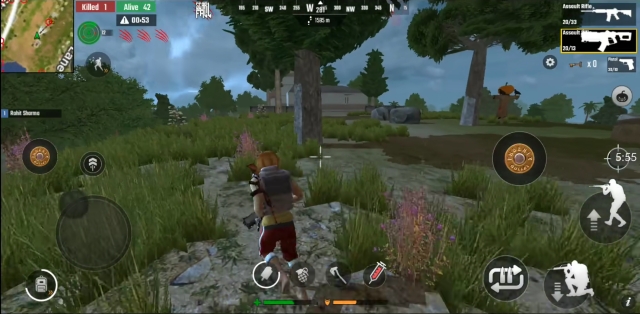 So if you want to altogether ditch Chinese-backed battle royale games then ScarFall would be an apt pick. Coming to the gameplay, it has both online and offline multiplayer gaming modes. You will have to survive in the shrinking safe zone and you will have 3 chances to win the game.
In case, you want to play solo or in a 4v4 squad mode then you can do so as well. For your information, ScarFall offers both third-person and first-person shooter mode. Basically, in terms of theme and gameplay, ScarFall seems just like PUBG Mobile and with already 1M downloads on Play Store, it's an easy pick.
Pros
Graphics is pretty good
Both offline and online multiplayer mode
Supports FPS and TPS
Growing community
Cons
There are some bugs
Takes time to connect to players
Download: Android, iOS (Free, offers in-app purchases)
9. Knives Out
Knives Out is yet another intuitive and stunning PUBG alternative. To make all their battle royale games differ from each other, it has added unique locations such as snow-capped mountains and train tunnels to its maps. All controls and action will remain quite similar and you're free to do anything (expect cheat) to survive the wrath of the closing arena and enemies.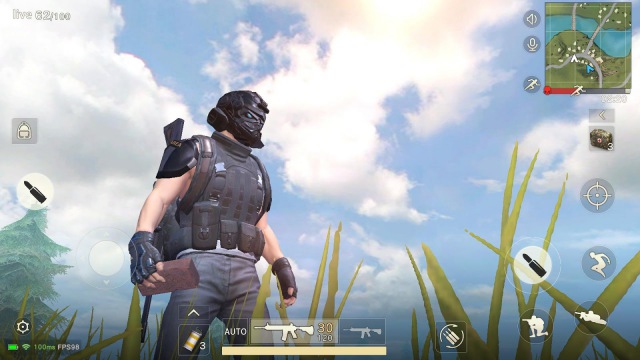 The aesthetics of the game, as you can see in the screenshot above, would surely be the one thing that pulls you into playing the title over the others. It currently has over 10 million installs, but I'd pick outlandish masks and futuristic jackets over all regular ones any day. This doesn't undermine the graphics or gameplay in any way though.
Pros
Snow-capped gaming environment
Excellent graphics
Futuristic weapons
Closing arena just like PUBG
Easy to play
Cons
Gyroscope issues
Anti-cheating system needs improvement
Download: Android, iOS (Free, in-app purchases start at $0.99)
10. Pixel's Unkown Battle Grounds
Any Minecraft enthusiasts in the house? Well, if you're a true fan of pixel-style retro visuals then Pixel's Unkown Battle Grounds could be the perfect opportunity to enjoy battle royale fights on your mobile.
You again need to outlast the wrath of the enemies in a block city, where your block-figure can shoot with an AK, Pixel Gun, SMG, multiple-barrel, and other weapons to end the deathmatch.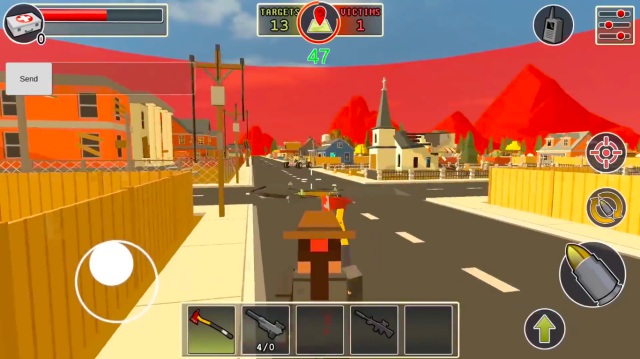 This game is currently under development, so you may encounter a few glitches here and there. I sure did while trying to enter/ exit houses or aiming for a shoot, but all other functions are smooth as butter in the crazy 3D block city.
The developers have also tried to simplify the game mechanics by resorting to an auto-shoot mode to help you take down enemies.
Pros
Pixel-style retro visuals
3D Block-city
Decent collection of weapons
Auto-shoot mode
Cons
Download: Android, iOS (Free, in-app purchases start at $0.99)
Frequently Asked Questions
Q. Which Game is Just Like PUBG?
In terms of theme and gameplay, Call of Duty: Mobile and Fortnite are games just like PUBG. You have multiple gaming modes including the popular 100-player deathmatch.
Q. Is PUBG Still Worth Playing in 2020?
I would say, yes. PUBG is still worth playing in 2020 especially after the new map updates. But since the game has been banned in India, you have no other options than to look for alternatives. You can find the best games like PUBG for Android and iOS from our above list.
Q. Is PUBG Banned in China?
There have been multiple reports of PUBG being banned in China, as the Chinese government did not approve the in-app purchase feature of the app. As per latest report, Tencent has replaced PUBG with Game of Peace in China.
Q. Which Country Plays PUBG the Most?
If you account for PUBG Mobile users then India tops the list. However, if you combine both PC and mobile users then China ranks on top.
Q. Which Country's Game is PUBG?
PUBG is developed and published by Tencent Games, which is a China-based company. However, the game originated from a South Korean video game company Bluehole. In 2017, Tencent Games secured rights from Bluehole with 10% stake in the company.
Best Games Like PUBG Mobile After the Ban
So these are the best games like PUBG Mobile that you can play after the ban becomes effective. There are many powerful battle royale games similar to PUBG and you can definitely give one of the aforementioned alternatives a try. Over the years, several game studios banked on the hype surrounding the battle royale genre and now we have potential PUBG alternatives that are as good in gameplay, if not better. So, do tell us which game title you tried and fancied the most in the comments below.