Right on the heels of Spotify's much-awaited arrival in India, YouTube Music also stepped into the scene to complete the assortment of music streaming services available in India earlier this month. This means we now have more than enough choices to stream music online and it seems existing players, both local or international, should be worried about this competition – that too from the two biggest streaming platforms across the globe.
If you've been looking for the music streaming platform most suited for your needs and want to know how the boatload of music streaming services, including Gaana, JioSaavn, Apple Music, Spotify, YouTube Music, and Amazon Prime Music compare to each other in India, then look no further. We have compiled all the information you should need about each of these music services right here:
How Music Streaming Services Compare in India
A recent poll on our Twitter shows that users have started to shift to streaming services instead of downloading music locally, all thanks to a widespread and affordable Internet connection (read: Reliance Jio) now available across the country.
So, we thought it would be a great idea to see how all of the streaming services in India, including JioSaavn, Spotify, Gaana, Apple Music, Amazon Prime Music and YouTube Music (which will soon be the default and not Google Play Music) compare against one another.
We pit these streaming services based on five different criterions, so check it out:
The catalog of artists, albums, and songs is one of the most important criteria for picking the music streaming service you plan to use on the daily. I'm a melophile and give huge weight to the music collection because what good is a platform if it does not have the artists I'm going to listen to regularly.
Apple Music, JioSaavn, and Amazon Prime Music have a massive music catalog (actually the largest) and you're free to choose from and stream over 50 million songs, be it western, Bollywood, indie or regional artists in languages like Tamil, Telugu, Punjabi and more.
Spotify and Gaana lag behind their fiercest rivals by a huge margin, with over 40 million and 30 million songs available to stream on these platforms respectively. This number is, however, even lower in India for Spotify because of its ongoing skirmish with the Warner Music Group. A large chunk of their library, especially western music, is missing for this very reason.
Finally, coming to YouTube Music, it could possibly have the biggest music catalog & there's a simple reason for it. The service not just brings along the totality of Google Play Music's over 35 million song collection, but also gives you the power of YouTube. You can search for and play live performances, remixes, covers, and other beautiful renditions of any song that you like.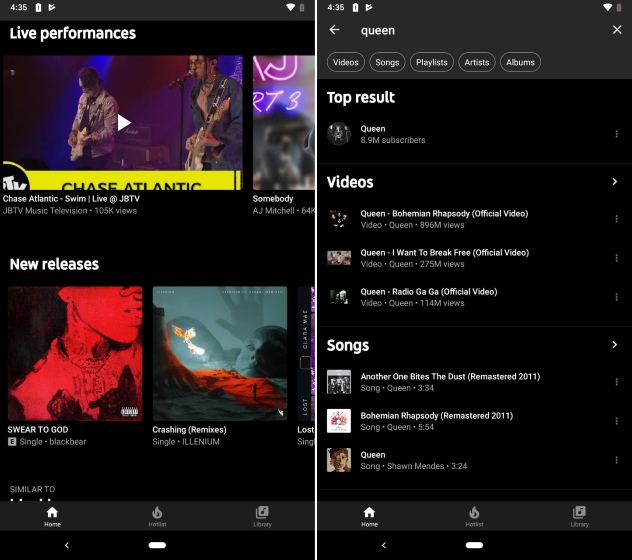 I mean, YouTube is vast and it simply makes it difficult for us to put an exact number out there for its song collection but it's huge. YouTube Music can be seen as a service mainly for users who love the energy of live performances, covers by up-and-coming artists with originals also in tow.
The second criterion which gets a ton of weight is obviously the pricing, especially in our developing nation like India where Internet services have just found their way to a large audience.
Most of the streaming services we compare here extend free variants, making it possible for netizens to stream songs, but with added restrictions like ad support, limited skips, & shuffle playback, among other things. Spotify's free tier in India is different from all other locations it's available in, as you can easily play any song, artist or album from its entire catalog without having to pay for a subscription.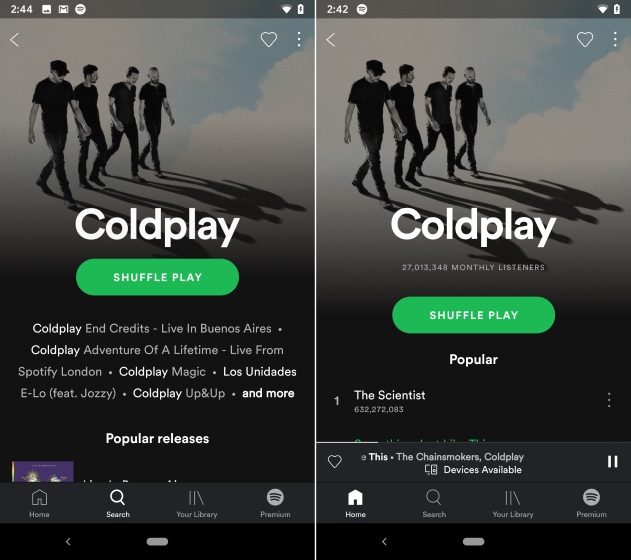 Apple Music and Amazon Prime Music don't even have a free version to offer. The former solely extends you access to its Beats Radio service when your trial ends and the latter's locked behind a paywall from the get-go. However, a Prime subscription not only gets you music streaming, but video streaming, and free two-day shipping, which is awesome.
YouTube Music recently stepped foot into the streaming segment in India but has kept its subscription price at par with its fiercest rivals to court users. It's also offering a 3-month free trial to give users a taste of their service, which sure packs a punch for users who've been listening to music on the video platform for years.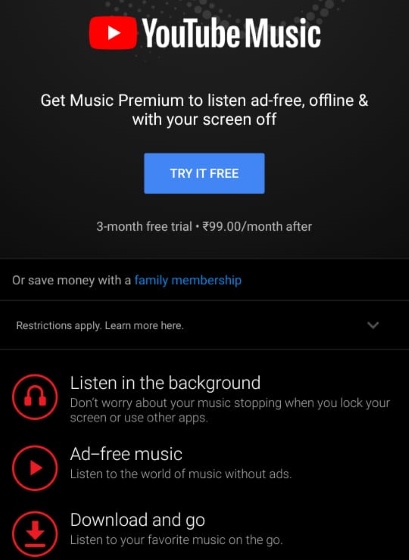 Every streaming service certainly offers you free trials (with varied time frames, from 30 days to 4 months) to give you a taste of what all features they have to offer. Once you're content and the trial period terminates, you need to shell out money to continue enjoying the add-on features that elevate the listening experience.
Most Premium subscriptions hover around the sub-Rs 150 price mark, Gaana extends the cheapest music streaming service in India though – if you go a yearly plan. You can check out the complete pricing info for these streaming services right here:
[Update] JioSaavn and Gaana have recently updated their yearly plans, cutting it down to Rs. 299 to counter YouTube Music and Spotify's entry into India. This makes JioSaavn and Gaana a lot more attractive to users looking for an affordable streaming service.
Streaming Service
 
Subscription
Prices
Price/Month
Price/3 Months
Price/6 Months
Price/Year
JioSaavn
Rs 99
Rs 285
Rs 550
Rs 299 (previously was Rs 999)
Spotify
Rs 119
Rs 389
Rs 719
Rs 1,189
YouTube Music
Rs 99
x
x
x
Apple Music
Rs 120
x
x
Rs 1200
Amazon Prime Music
Rs 129
x
x
Rs 999
Gaana
Rs 99
Rs 199
x
Rs 299 (previously was Rs 499)
Audio quality is determined using the different bitrates at which you could listen to music via these streaming services, most of which are set at 'automatic' and vary based on the Internet connection. They're usually denoted as low, medium, and high on streaming platforms.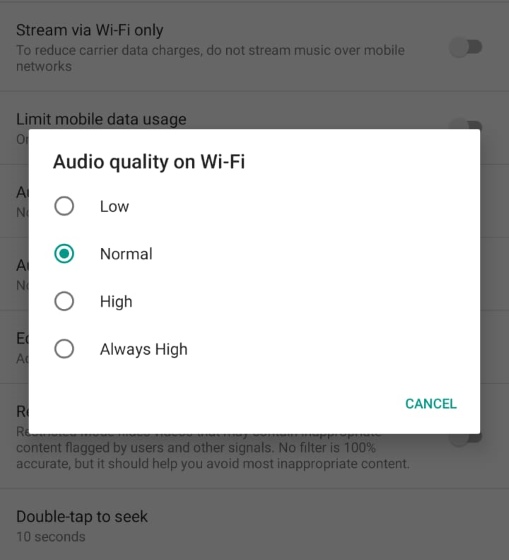 The default bitrate for an average connection is said to be about 96 kbps, which is pretty decent and ranges between 256kbps to 320kbps on the higher end. No one wants users to talk about the lower end of the spectrum, but it's vital for developing nations, & varies from 16kbps to 96kbps, depending on the streaming app and "data saver" feature baked into it. You'll be able to hear the distortion in tracks as you lower the quality, so it isn't suggested to listen to music on this setting until it's dire.
Not every music streaming service is open about streaming quality and attempt to hide bitrates behind cringy or vague titles like 'super duper high' in JioSaavn or 'fastest streaming' in Amazon Prime Music. This has been done to simplify the setting for users, however, stating the bitrate next to it or on your website would do them harm.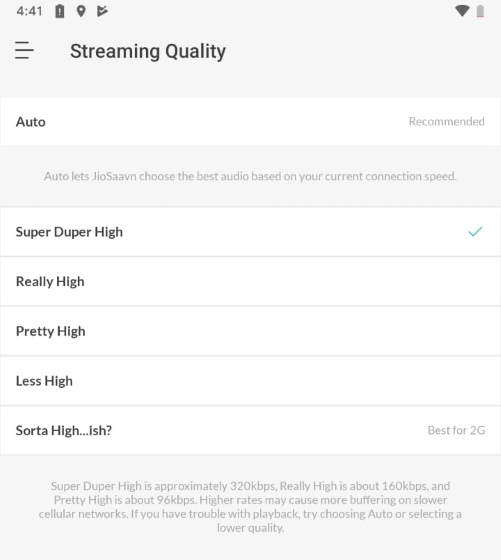 Note: The bitrates we talk about below are usually for streaming music and it's possible that the same may vary when you'll download/cache the music using a paid subscription.
After scouring the Internet, we've found that Spotify and JioSaavn in India offer 320 kbps playback, whereas Gaana says that the highest setting on its platform goes up to 320kbps. All others including YouTube Music, Apple Music, and Amazon Prime Music offer up to 256 kbps streaming and their quality is quite comparable to one another.
We've compiled a list of the lowest and highest bitrate for most of these streaming apps here,
| Streaming Service | Lowest Bitrate | Highest Bitrate |
| --- | --- | --- |
| JioSaavn | N/A | 320 kbps |
| Spotify | 24 kbps | 320 kbps OGG |
| YouTube Music | 48 kbps | 256 kbps AAC |
| Apple Music | N/A | 256 kbps AAC |
| Amazon Prime Music | N/A | 256 kbps |
| Gaana | 16 kbps | 256 kbps to 320 kbps |
I know, you are not getting the ultimate audio experience with AAC and OGG as they are lossy audio formats. They have been popularised by streaming giants like the ones we're talking about but melophiles, if you want to be able to increase the quality to the highest setting then Tidal's up to 1,411 kbps lossless playback is what you need.
The user experience is objective, as well as subjective to the user. While I love the clean and modern interface of Spotify, which is regularly updated to include new features and elements, I'm not the biggest fan of Amazon Prime Music's old-ish and clunky design. It feels like you're using an app from the 2010s when you open Prime Music, but with the smarts of the present day.
Spotify is my favorite because of the darker aesthetics, neatly laid out playlists, granular settings, and playback controls. The looping videos that appear in some tracks is cool but not favored by all. Apple Music is possibly my second favorite service, but YouTube Music surely is a close third for me.
Apple Music boasts a completely all-white UI, with not much clutter and random options here and there. There's an Apple-like simplicity to the service and it's the perfect app for iOS users while its Android app needs major improvements. YouTube Music, on the other hand, brings the familiarity of YouTube in the form of a dedicated music streaming app to you. It has managed to bring audio and video together in the best way possible, but the follow/subscription thing has me really confused.
Coming to Indian streaming services, well, both JioSaavn and Gaana feature a clean and likable user interface. The former improves on Saavn's previous UI and makes it simply better – with playlist, history, downloads, and everything else accessible easily. The latter, I'm going to be honest, I haven't used a whole lot but it looks good except for the player screen looking a bit cluttered (even though it has lyrics up front).
There are several reasons for which one chooses the streaming service they do. And no it isn't just the music collection, or the abundance of local and regional content (which sure becomes a primary focus in India) but also the additional set of features that the services have to offer to elevate the experience. Well, each of the music streaming services we've talked about has some standout features to boast, so let's take a look at them:
Spotify: Spotify is one of the best streaming platforms for a reason. It has features like collaborative playlists, private listening mode, the ability to listen to local music on your desktop, view song credits, and a lot more. You can stream podcasts and videos on the platform as well.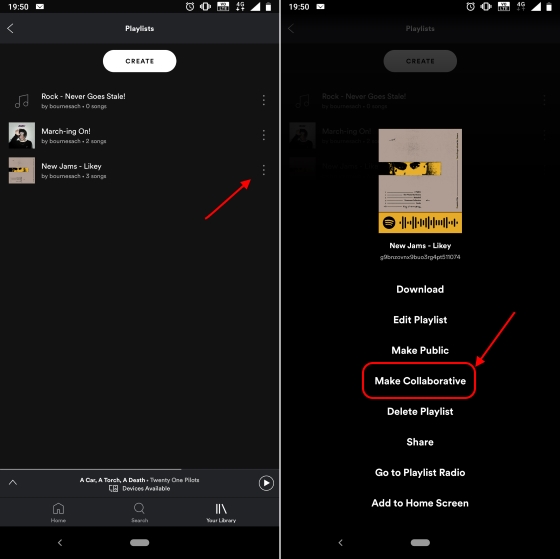 Spotify has also signed up a ton of partners, making integrations for Instagram Stories, Google Maps, Samsung devices available to its users. You can check out the top tips & tricks for Spotify if you've recently made the switch right here.
JioSaavn: The biggest music streaming platform in India, JioSaavn retains most of the features from Saavn and builds upon the same with new forms of content. You now get access to JioSaavn originals, podcasts, and exclusive video content, along with features such as dark mode, offline support, and local playback – but most of them come locked under a Pro subscription.
YouTube Music: YouTube Music has a major benefit when compared to all other music streaming platform and it's really underrated. We consume a lot of music on YouTube so the recommendations on there are already tweaked to our tastes. This means when you power up YouTube Music, you don't really need to provide it any info about which artists you like or not. It already knows it and I love that.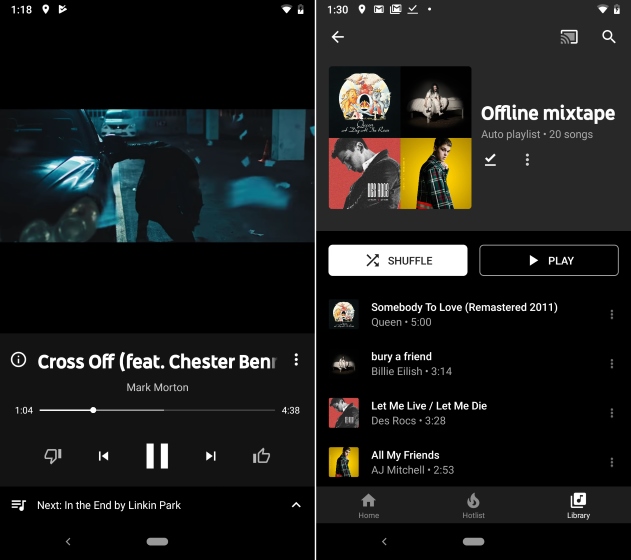 YouTube Music offers you the ability to switch between audio/ video playback seamlessly, enjoy live concerts, remixes and covers too. My favorite feature, however, will have to be the offline mixtape, which when activated, saves up to 100 tracks to the device based on your liking.
Apple Music: Apart from the neat layout and massive music collection, Apple Music has been known to sport a myriad of cool features. Its daily recommendations, mixes, music video playlists, Beats 1 radio, along with news and sports content are surely some of the best. The service also offers Siri and Apple Watch integration for easier control over your playback.
Amazon Prime Music: Apart from being bundled with the Amazon Prime subscription, I ain't really the biggest fan of the service. It feels old and clunky even though it may have one of the biggest catalogs, and Alexa being integrated into the service appears like the saving grace for Amazon – well, at least it looks like so to me. It also works hands-free, which is great and can play any song you ask it to.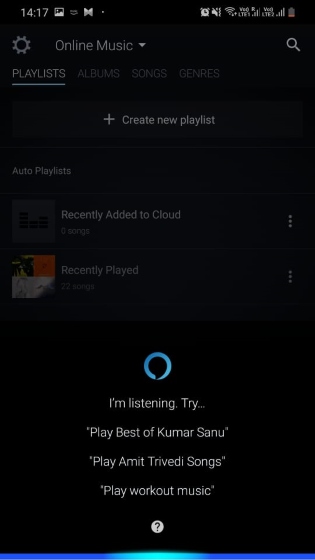 Gaana: Gaana is one of the older music streaming players in India, who's recently given the platform a facelift and employed AI algorithm for better recommendations, as well as discovery. Gaana also packs features such as lyrics on screen (customizable), dark mode, voice search, and more for the ease of its users.
My favorite feature will, however, have to be the regularly updated 'For You' section that extends you playlists based on your music taste. It's quite resemblant to a feature I love Spotify for and that's called Daily Mixes.
Having learned how all of the major music streaming services available in India compare, here's a detailed roundup (with additional info) of the same:
| Features/ Streaming Service | JioSaavn | Spotify | YouTube Music | Apple Music | Prime Music | Gaana |
| --- | --- | --- | --- | --- | --- | --- |
| | | | | | | |
| Song Collection | > 50 million | 40 million (missing a major chunk of their catalog in India) | 50 million + remixes + live performances + covers | > 50 million | > 50 million | 35 million |
| Podcasts | Yes (originals) | Yes | No | Yes | No | No |
| Free Tier | Yes | Yes | Yes | No | No | Yes |
| Premium Tier | starts at Rs 99/month | starts at Rs 119/month | starts at Rs 99/month | starts at Rs 120/month | starts at Rs 129/month | starts at Rs 99/month |
| Student Plans | No | Rs 59/month | No (available outside India) | Rs 60/month | No | No |
| Family Plans | No | No (available in international locations) | Rs 149/month (up to 6 members) | Rs 190/month (up to 5 members) | No | No |
| Platforms | Web, Android, iOS, Windows | Web, Desktop (Mac & Windows), Android, iOS, PS4 | Web, Android, iOS, Desktop (unofficial, Google Play Music Desktop Player) | Android, iOS, Web (unofficial) | Web, Android, iOS, Desktop (Windows & Mac) | Web, Android, iOS, Windows |
| Offline Support | Yes (mobile) | Yes (all platforms) | Yes (mobile) | Yes (all platforms) | Yes (mobile) | Yes (mobile) |
| Streaming Bitrate | up to 320kbps | up to 320kbps | up to 256kbps | up to 256kbps | up to 256kbps | up to 320kbps |
| Simultaneous Device Support | 5 | unlimited (playback one at a time) | 10 | 10 (playback one at a time) | 4 | 5 |
SEE ALSO: Spotify Update: What's New?
Music Streaming: Who Takes The Crown in India?
Well, that's about everything you need to know about some of the most popular music streaming services available in India. It's really tough to pick the best of the lot, but I personally prefer Spotify for its massive music collection, podcasts, and smart playlists. However, since a ton of it is missing in India at the moment, I have turned to YouTube Music for the time being for its recommendations are already tuned to my liking.
JioSaavn and Gaana appear to be the perfect option for users who listen to Bollywood music regularly, whereas Apple Music should be your pick if you're bound to the Apple ecosystem. Amazon Prime Music, I'd state is great because it comes bundled with the yearly Prime subscription and you don't need to shell out money on a different service. Take your pick and get to enjoying those melodies.
So, which of the aforementioned music streaming services are you currently using and why? If you were to make a switch, which service would you pick? Do let us know your thoughts in the comments below.