If you are a regular Google Chrome user, then you might have come across its feature of restoring tabs whenever you start a new session with Google Chrome i.e. it lets you start from where you left once you come back to Google Chrome. This feature is indeed very useful in terms of prevention of data loss i.e. at times you have so many important tabs opened and you accidentally close your Google Chrome window. You do not even remember the names of all the tabs that were opened. In such situations, the restoring tabs feature of Google Chrome proves to be very helpful.
However, at times, this feature can also get problematic for you. For example, you were working with something sensitive or critical and after completing your work, you responsibly closed all the tabs and left your computer system turned on. While you were away from your PC, an intruder might come over, launch Google Chrome and because of the restoring tabs feature of this browser, he manages to get access to all of your critical work. Therefore, there must be some way to prevent such a disaster from happening.
The only workaround that we can think of for avoiding such a situation from happening in the first place, all we can do is to stop Google Chrome or whichever browser we are using from restoring the tabs. That is why in this article, we will be talking about the method of stopping Google Chrome from restoring tabs.
Method of Stopping Google Chrome from Restoring Tabs:
For stopping Google Chrome from restoring tabs, you will need to perform the following steps:
Launch Google Chrome by double-clicking on its shortcut icon located on your desktop. Now click on the three dots located at the top right corner of your Google Chrome window as highlighted in the image shown below:
As soon as you will click on this icon, a cascading menu will appear on your screen. Select the Settings option from this menu as highlighted in the following image: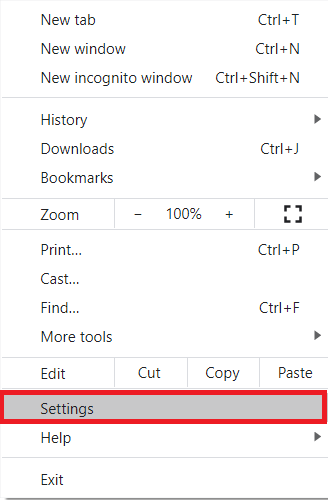 In the Google Chrome Settings window, scroll down to the "On start-up" section and then select the Open the New Tab page radio button as highlighted in the image shown below for restricting Google Chrome from restoring tabs.

Conclusion:
By making use of the simple and quick method described in this article, you can easily stop Google Chrome from restoring tabs and hence you can prevent the misuse of your critical work. However, if you feel at any time that you need to enable this feature again, you can simply do this by following the same method discussed above and simply selecting the "Continue where you left off" radio button in the last step.